Broccoli & Cheddar Oat Biscuit Eggs Benedict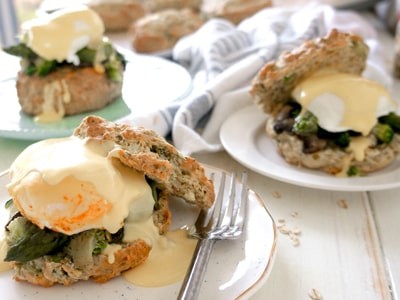 Ingredients
2 Tbsp Grape Seed Oil
4 oz Sour Cream
1 cup Horizon Organic 2% Milk
1 ¾ cup King Arthur Flour All Purpose Flour
1 cup WOODSTOCK Organic 5 Grain Cereal
1 tsp Baking Powder
1 tsp WOODSTOCK Organic Cane Sugar
½ tsp Kosher Salt
½ cup Shredded Cheddar Cheese
½ cup Diced Broccoli Florets
Dash of Salt
Dash of Black Pepper
Spray Oil
Hollandaise Sauce:
3 egg yolks
1 Tbsp Fresh Lemon Juice
½ cup Unsalted Butter
Salt to Taste
Pinch of Cayenne Pepper
Directions
Preheat oven to 450* Fahrenheit and line a baking sheet with parchment paper.
In a non-stick frying pan, sauté broccoli with a dash of salt and pepper, until just cooked through but not soggy. Set aside to cool.
In a mixing bowl, mix together oil, milk, and sour cream until just combined.
Add in flour, 5 grain cereal, baking powder, cane sugar, and salt. Mix until biscuit dough is completely combined and thick. Fold in broccoli and cheddar cheese. Let the dough rest for 10 minutes.
Spray the inside of either a ½ or 1/3 measuring cup. Gently spoon the biscuit batter in and level out on top. Turn over onto the lined baking sheet, leaving 2 inches between biscuits.
Bake in the oven for 12-16 minutes, or until the biscuits are golden brown and no longer look doughy.
While the biscuits are baking, begin preparing the poached eggs. Fill a small saucepan halfway with water and bring to a boil. Immediately turn down heat to bring water to a very light simmer with no rolling bubbles (to about medium-low). Crack 1 egg into a small heat-safe cup. Use a spoon to lightly stir water in the pot and release egg into the water (Tip: submerging part of the cup into the water while dropping the egg will help the egg stay more together). Cook for about 4 minutes and remove with a slotted spoon. You can store eggs on a paper towel lined plate in the meantime.
Now time for the easiest hollandaise sauce ever! In a small saucepan, melt butter until the edges are bubbling and foaming. Turn off heat but do not remove the pan from the burner. In a blender with a lid, combine egg yolks, lemon juice, salt, and cayenne pepper on low for about 5 seconds. Set the blender on high and very slowly pour the butter into the blender until all butter is added into the blender. The sauce should thicken and almost double in size. Tip: pour the hollandaise sauce into a heat proof glass and place in a bowl of warm water to keep warm while serving.
Once biscuits are cooked, layer with desired toppings: sautéed veggies, sausage, bacon, smoked salmon, and etc. Layer on the poached egg and spoon the hollandaise sauce on top.