Bone Broth Oats with Sautéed Vegetables and Soft Eggs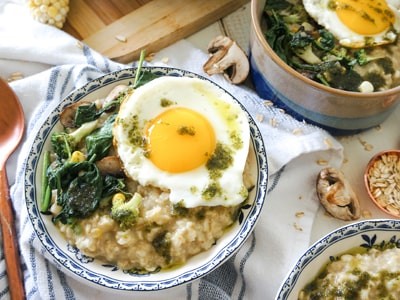 Ingredients
4 cups Bonafide Provisions Organic Chicken Bone Broth
1 ½ cups WOODSTOCK Organic Traditional Rolled Oats
¼ cup Petite Diced Yellow Onion
1/3 cup Broccoli Florets (Or WOODSTOCK Organic Broccoli Florets)
2 cups Fresh Organic Spinach (Or WOODSTOCK Organic Chopped Spinach)
1/3 cup Organic Baby Bella Mushrooms, sliced (Or WOODSTOCK Organic Mixed Mushrooms)
1/3 cup Fresh Corn Kernels (Or WOODSTOCK Organic Supersweet Corn)
2-3 cloves Garlic, diced
¼ tsp Salt
¼ tsp Black Pepper
1 tsp Olive Oil or Spray Oil
Fried Eggs, Over Easy
Fresh Pesto
Directions
In a frying pan, add oil and heat over medium. Add onions and sauté until translucent. Add in garlic, broccoli, spinach, corn, and mushrooms. Sautee until cooked through, then season lightly with salt and pepper.
In a medium sauce pan, bring bone broth to a boil. Add in oats and reduce to a simmer. Stirring occasionally, let the oatmeal simmer for about 5 minutes, or until the majority of the broth has been absorbed by the oats.
Spoon oats into bowls or cups and top with sautéed veggies, fried eggs, and 1 teaspoon fresh pesto.